I realize I said I would be done with Flirty Love by Valentines Day…. As you can see that has not happened at all….. I guess at the moment, I am still learning my tools of trade. I had bought Tria and Copic Markers a few years ago and used them only a few times in that year. But after a few years, I've picked them back up to give them another chance. Actually, I've learned that Tria Markers are not very reliable, so at least I know what NOT to invest in any longer. I still have the Copics to try out, which are still as pristine quality as when I first bought them (unlike TRIAS :P), but I would also like to try Prismacolor Markers, which I have not gotten yet. I've also learned that, using paper specially made for permanent professional art markers, makes a HUGE difference. Otherwise, when you use art markers on regular art pad paper, the ink tends to bleed, which is a no-no-no-nooo.
I have recently created a new picture, upon someone's request, at first for fun. But I've decided it has great potential for something more. So I am going to use the picture you see below as practice-to-the-final-picture. Meaning, for practice but also for a possible poster or card or even both. It would be the first poster I'd post up for sale!
So, bear with me as I continue to learn and mature in my artistic abilities. I am excited at the prospect of using another tool for creative uses. Heck, just last night, I spent nearly 5-6 1/2 hours straight working on the second part (or draft) of the drawing of the fairy! And you know, I really missed that feeling. The feeling of concentration and problem solving of what to do here and there and if things look right or not, and researching things to make it look good in the picture…… It must be what mathematicians or scientists feel when they research their stuff hehe (Random?? Maybe, but a fun thought :D). I admittedly stopped drawing for almost a good month. I guess I had no inspiration, or I was going through a little something (sorry, no juicy details here). It really wasn't a great feeling. This may sound silly but whenever I listen to certain songs, read a book, or watch an animated show (yesssss… I watch anime…) I feel my creative brain working back up. So, I think that played a role in me starting to get back into the rhythm of art, because I feel like I am coming back. 🙂 Plus, the feeling of working directly on paper with pencil/pen/brush/marker is an exhilarating feeling. I think that's because, as artists, we get to see the Nothingness become Something Amazing. A piece of paper coming to life right before your very eyes.
It was only me, the music, the paper, the fairy going on in my world. Like being lost in a book or story…. Okayyy I'm gettinng a little deep herrreeee. Moving on!
No more videos right now. Hopefully in the near future though. But, if you miss seeing my videos, you can check them out at my YouTube Channel.
That is another thing I need to learn more of.
Aaaah, an artist never stops learning…
Here's the first draft, done in paintchat (like chatting online, only you draw and/or write with other people on the internet. It is under "drawing"), that I did for a friend:
(Click on picture above for a larger view)
And here is the 2nd draft I did last night, in pencil and pen, and a little touch up in Photoshop with a Graphire Wacom Tablet: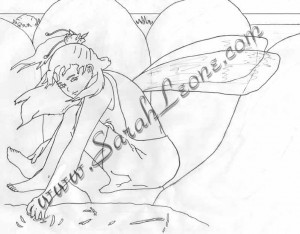 (Click on picture above for a larger view)
Let the Artist know what you think about it so far! 😀
Comments are appreciated. Thanks!